ACOUSTIC PANELS UK
BY ACOUSTISOLVE NOISE REDUCTION:
welcome to our site!

ACOUSTIC PANELS:
Acoustic Panels that absorb high levels of noise and echo and significantly improve acoustics in all types of buildings:
Village Halls, Studios, Sports Halls, Call centres, meeting rooms, Offices.
Phone: 01484 614389
Email: acoustisolve@live.co.uk
ACOUSTIC PANELS ANYWHERE IN MAINLAND UK!
http://acoustic-panels-by-acoustisolve-noise-reduction.co.uk
We specialize in solving echo and noise problems and improving the sound of your village hall, community hall, studio, sports hall, schools, office and meeting room to reduce noise and echo, improve performances and speech intelligibility.
We supply and install ACOUSTIC PANELS at an affordable price within the budget of any type of room or venue.
WE HAVE SUPPLIED AND INSTALLED ACOUSTIC PANELS ALL OVER THE UK WITH GREAT RESULTS!
We can also reduce noise levels entering or leaving your property, such as from VILLAGE HALLS, STUDIOS, SPORTS HALLS, MEETING ROOMS, SCHOOL HALLS, HOME STUDIO'S, HOME OFFICES, BAND PRACTICE ROOMS.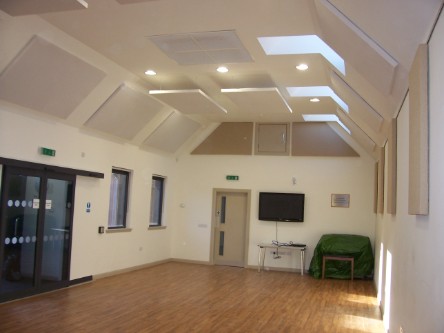 Take advantage of our FREE EVALUATION and learn how we can reduce noise and echo with our
ACOUSTIC PANELS
ACOUSTIC PANELS FOR:
STUDIOS
VILLAGE HALLS
SCHOOLS
SPORTS HALLS

SOUNDPROOFING
OFFICES
MEETING AND CONFERENCE ROOMS

HOME STUDIO ACOUSTIC PANELS AND BASS TRAPS

BAR AND RESTAURANTS

SOUNDPROOF GARDEN OFFICES