ACOUSTIC PANELS PICTURE GALLERY:

look at what we can do for your room!

With our highly effective Acoustic Panels and soundproofing products we have THE affordable solution to solve your echo and noise problems that looks and performs beautifully and complements any style of village hall, studio, school, sports hall, reception area, meeting room, office or building.
MERCURY QUAYS OFFICE SUITE.
A low reverberation time is essential in an office or call centre.
We specialise in office acoustics and Our panels achieve this at an unbeatable price.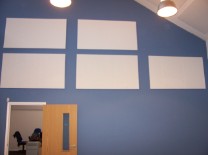 BOWSDEN VILLAGE HALL.
Not only do our sound absorption panels eliminate echo and solve poor sound problems, they also enhance the appearance of any room.
Several colours and designs are available to suit your taste and budget.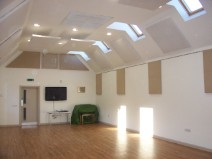 STUDIO FREE STANDING PANELS
Free standing portable acoustic panels supplied to Giant Leap Productions film recording studio.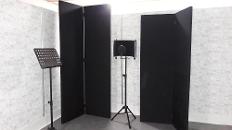 AYTON VILLAGE HALL
Reverberation time reduced from about 3.7 secs to 0.8 secs
They approached us for help to reduce echo in their hall after reading our post on Scotland: National Rural Network